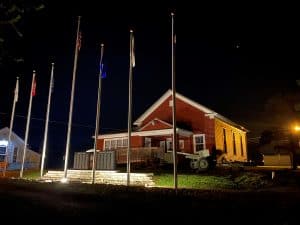 Start of the Heroes Wall Honored Forever
Welcome to the web site of the Tri-State Military Veterans Museum; formerly known as the Belmont County Military Veterans Museum.   The Tri-State MVM mission is to honor our country's veterans and to educate future generations on the price of freedom. Freedom Isn't Free! The Tri-State MVM is a Military Veterans museum for all Ohio Valley.  Please browse our site to learn more about the museum and the history of military veterans of Belmont County and the Ohio Valley.
We are closed for the season, if you would like a tour please
 Call for appointment
The News page is where we will post museum news, announcements of meetings, and other items of interest.  Our meetings and events will also be posted on our Calendar page.  Our Gallery page will have photos of interest from our museum collection.  To contact us for questions, comments, or suggestions, see our Contact Us page.  To donate to support our mission, see the Donate page.